Despite the postings to date, OttawaVelo isn't all about MTBing. In fact about 95% of my annual KMs are on gravel. I love the stuff and can see myself riding it years after I retire from technical single track.
Somewhat ironically I used to be envious of those riders who lived a short ride away from some huge MTB singletrack network (ie: Colorado). Actually I still am, but I've come to realize that where I live offers some pretty damn beautiful gravel options right out my door that I enjoy a good 4-5 times a week.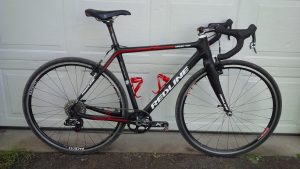 So what's the gravel like around North Gower? Maybe the best way to answer that question is to explain my gravel ride. It's a 2015 Redline Conquest Team. If stiff, it's low, and meant for tempo speed. I run mini-V brakes, 11-23 cassette (1×10), Pacenti SL23 rims on tubeless Schwalbe G-One 35mm (awesome!) tires. She's fast on smooth gravel and respectable on pavement.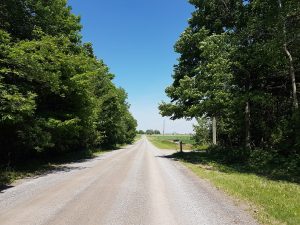 What that means is that this region has little elevation (hence the tight cassette and non disc), and the gravel is typically fast (hence the 35c tires). This stuff won't beat up yours legs anywhere near as quickly as Lanark Highlands/Gats (future postings).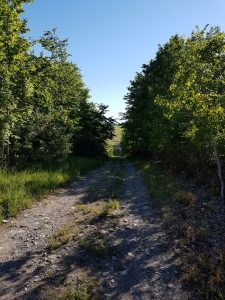 There are a few chunkier farming access roads but they're pretty short.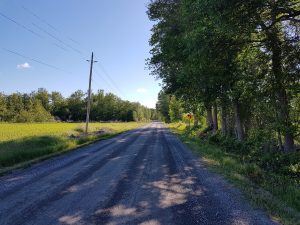 If you're visiting the area here's just one option (too lazy to post a GPS file… some day I'll get to it):
Parking just off 416, ~65km route:
Take the Bankfield exit off of 416 (exit #57 I believe). Park & ride on the North West corner.
Take William McEwen Drive south, left on Century Road West
Take a quick hop over the 416 via Prince of Wales North
Take 2nd Line Road South for a good while 'til T junction
Right/East on Lockhead road.
Left/South on 3rd Line Road South
Right/West on Hwy 13, continue straight on Dilworth at the 4th Line Road junction.
Right/North on McCordick

ride extention~40-50km, go left to Hwy #5, then West & over the river towards Kemptville. First right is River Road, follow the river to Burritt's Rapids. Admire the lock/history then go north through village, a quick left/right up Dwyer Hill Road. First gravel right is Paden which is same road (opposite direction) as #11. #12 will be Left/North onto Paden.

Left/West on Cowell

bail-out option, ignore #9 and continue north to #17 below

Left/South on Malakoff
Right/West on Paden
Right/North on Harnett – turns into Gallagher road at right turn
Left/North on Malakoff
Straight/North on Proven Line Road (where Malakoff sweeps right)
Right on T-junction to Harbison Rd
Left/North on McCordick
Right/East on Century road. Ride back to junction at instruction #2, reverse to get back to parking.