I recently went to a friend's B-Day party (75!), and being a fan of this site, he proceeded to give me shit about not updating this blog. So Denis, this posting is for you. 🙂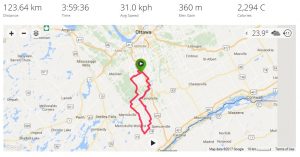 Now, I do have an excuse, two actually. As previously mentioned I've been training for a 50km run this August. That's taken up a lot of my would-be cycling time. Secondly, and probably more impactful, is the absolute shitty weather we've have this spring/summer. We've literally smashed previous records for April, May, and June was no better. We're now 17 days into July and we have had a grand total of 2 days in a row w/o rain.
Fields everywhere are flooded, seriously impacting crops. Farmers are struggling to cope with the water, below is one example where a tractor was hooked up to a pump and was launching water close to 30 feet across the road.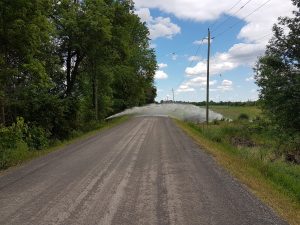 With this upcoming 50km trail run I've had to focus on rides of 4-5hrs in length to build my cardio. It occurred to me that I've never put a 100+ km loop to the south of the city, so off to Google maps I went and found a really nice route (Davis Road off Burrits Rapids Road) to branch further south from my typical Burritt's Rapids loop.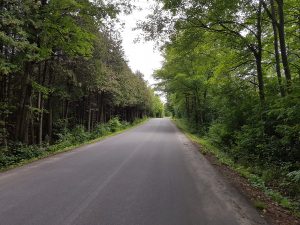 Davis Road (pictured above & below) is a really nice tranquil chip sealed road that happens to connect up to some really sweet gravel to the south.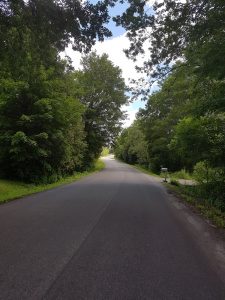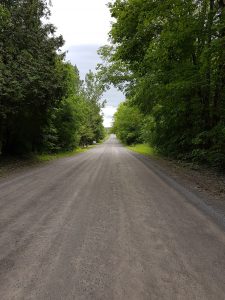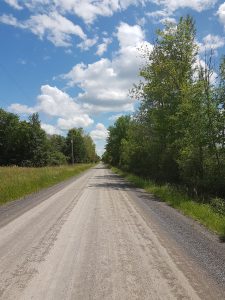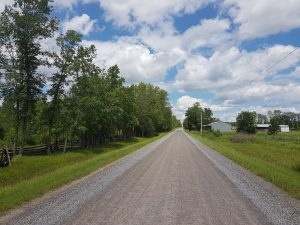 Follow the gravel far enough south and you start get into some exposed terrain, similar to Lanark Highlands.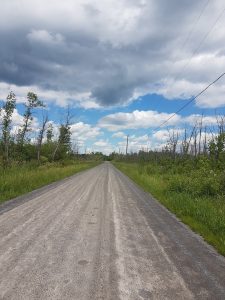 Eventually I got far enough south to ride through Limerick Forest, a popular MTB and dirt bike conservation area in the spring & fall where the ample sand absorbs and packs down with rain – although even this area was recently flooded with all the rain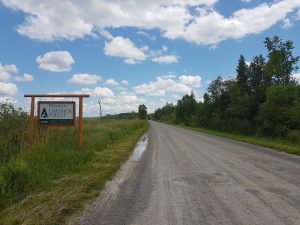 I decided to post the somewhat boring picture below because literally a second after taking it I realized there was a LARGE German Sheppard right on my derailleur. It wasn't easy to accelerate with one hand on my phone (no time to stuff into my back pocket) and another hand on the bars!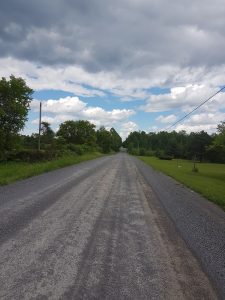 After Limerick the route turns North again through Oxford Township and the really pretty town of Oxford Mills (sorry, no pics of the town itself).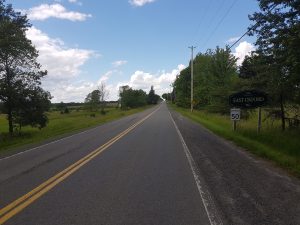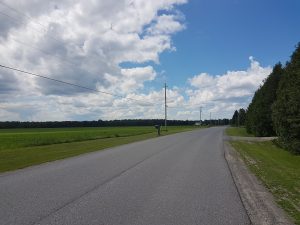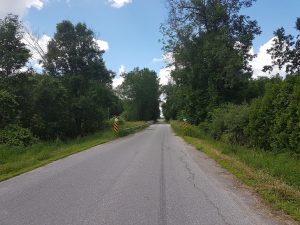 Eventually the loop connects back onto River Road a few kms East of Burrits Rapids.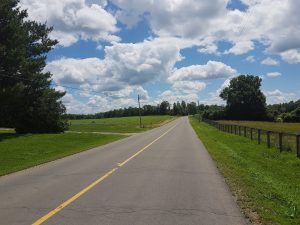 This monster loop was 123km long, of which 75km (61%) was gravel! The rest was quiet country roads and/or a lined biking shoulder. Super safe route overall.
Probably more satisfying than discovering this great new loop was that that I managed to finish in under 4 hours which = +30kph solo average (w/o any breaks) – a good sign that my fitness is reasonable for my upcoming run.