First post, and frankly meaningful ride, since coming back from France. Weather has been shit to say the least, so when the forecast showed +5 and ~10kph winds, I seized the opportunity to take my Redline out for the first time in nearly 5 months.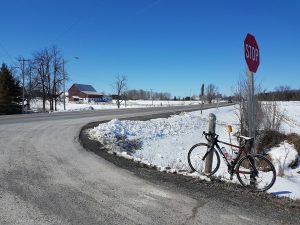 Despite punching out a stiff gravel run the day before I decided to ride one of my favorite loops through Burrits Rapids. Total ride was 69 km at a steady 2.5hrs.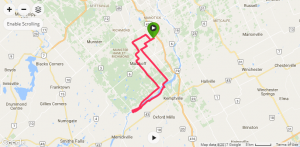 The route was slightly modified to cut about 15km of thawing/soft gravel along Paden/Harnett road. Typically it's a FAR better option than the busy/shoulderless Donnelly Drive running along the northern portion of Rideau River.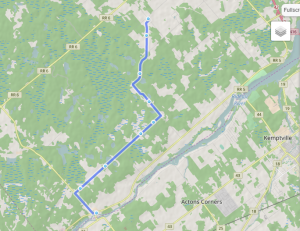 Riding across the Rideau River near Kemptville. As you can see we're still well inside winter up here…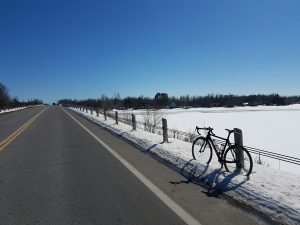 Part of the historical Rideau Locks near Burritts Rapids dating back to circa 1832. After being in France for most of this winter, that's not really old, but standards have to be reset back in North America. 😉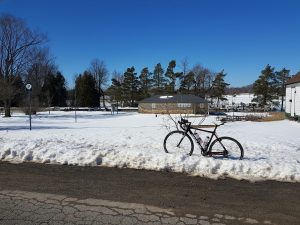 This is a cool swing-bridge located in Burrits Rapids. In the summer you can see this in action, operated manually by a single individual.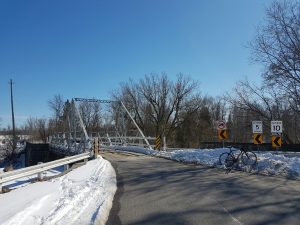 Back to my Redline, I forgot just how nice this bike rode. I'm sure the new Hutchinson Sector 32c tubeless tires contributed to the sense of speed & ride.
While quite narrow (31.7mm on a wide Pacenti SL23 v2 rim) they're almost 100gr lighter than the larger (too large for my Redline) 35c Schwalbe G-One. The Sector's rode super smooth & quiet on pavement and felt a good 2-3kph quicker than last year's G-One. These tires are getting damn close to entry/intermediate road slicks IMO, I wouldn't hesitate to take them with confidence on a fast roadie group ride. They're possibly even a bit faster than the 28c Panaracer Gravel King slicks (w/latex tubes) I rode in France all winter. Where the Sectors gain in speed they lose a bit on rough gravel – understandable given the difference in volume.
With 1 scoop (~60gr) per tire of Hutchinson's own Protect'air sealant, the Sectors aired up tubeless relatively quick (pre-stretched them for a couple of days w/tubes). I rode them at 50/55 psi (f/r) and it was just about perfect with no out-of-saddle pavement slop but still enough gravel cush. I've lost close to 20lbs since the New Year so my normal tire pressures will have to be reset a bit going forward.
They look to be a great tire to handle a bit more pavement/climbing duty than some of the more burly gravel offerings. I'm curious to see how durable they end up being. Depending on durability and riding tastes I might try Clement Strada USH next.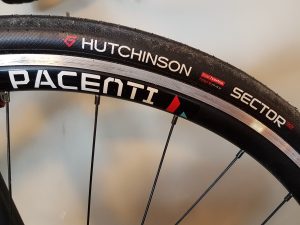 With regards to new route postings, that will be it for awhile. I plan to commit more hours to trail/gravel running for a 50km race this fall. I'll still document new bike routes but I don't expect to do a whole lot of gravel exploring this summer.
In the meantime, I'll take some time to load up pics from the archives – the rides before OttawaVelo came to be. Stay tuned, there's some amazing stuff from all across the country!