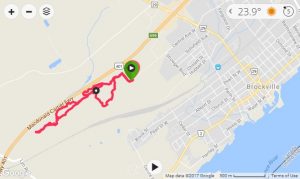 Last week I had a work related day-trip down the 410, so I thought it would be a good opportunity to squeeze in a light ride on the way home and test my new fork (Rock Shox Yari). Brocktel (aka Black & Decker trails) seemed like a good spot for me to visit. It's literally meters from the 401 and offers a good range of terrain to see what my fork can do.
Brocktel is a bit of a curious spot. It's local to several of my MTB friends who are all very skilled riders, who have visited many other riding centers, and overall are quite knowledgeable when it comes to trail design etc… That's what makes Brocktel somewhat confusing, because from a visitor's perspective it's quite a mess in there.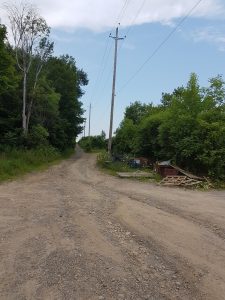 This trail network makes zero effort to be newbie or visitor friendly. There's no signs to direct you to, or within, the trails. Case in point, you have to ignore all the chewed up ATV trails that greet you at the dead end of Central Ave W road and instead turn right up this gravel incline to find the single track entrance on the left. It's not a bad thing per se, just keep in mind that the scope of this network is focused on local enjoyment only.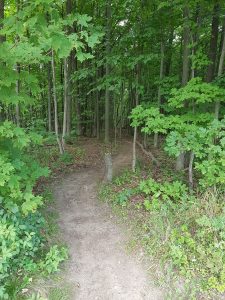 Once you do find the single track, the first several hundred meters are promising.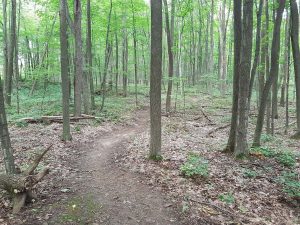 There's flowy hardpack trail, complete with well designed jumps.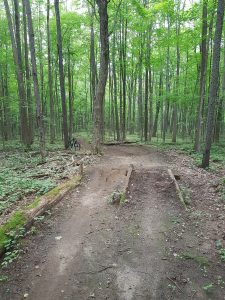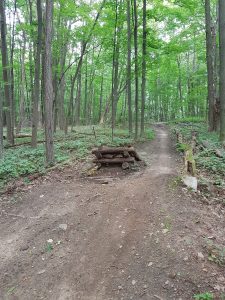 After just a minute of two I spotted my main (and unfortunately ubiquitous) pet peeve of many trail networks I visit, unmarked & seemingly random offshoots which distract you from enjoying the trail/jumps.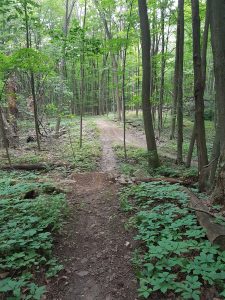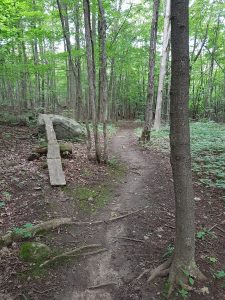 This first part of the trail has a nice light downhill gradient to keep the speed, quite a bit of effort has been put into the trails here and it's nice.
Eventually you start to climb back up and are dumped out into an unmarked intersection where the effort in trail design/maintenance takes a noticeable turn.
At this point you could play Tonto and start scrutinizing the dirt for tell-tale signs of tire tracks, or take a guess and choose a direction. Based on my memory from riding here with locals last year I knew to turn left then first right (after some exploring I discovered you could turn right then left to complete a loop and maintain the ride's difficulty to blue/medium).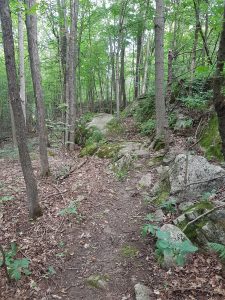 Quickly the terrain changes and so does the difficulty. The trail becomes much more… natural. You start to see the true mindset of what the locals enjoy for technicality. While they (we) are all aging they are still not afraid to challenge themselves.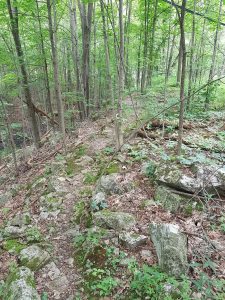 This part of the trail becomes slow, tight, somewhat overgrown, and the stability/footing of these rocks are questionable. Unfortunately, the word 'sketchy' works its way to the front of my mind. Start paying attention or it can go south quickly…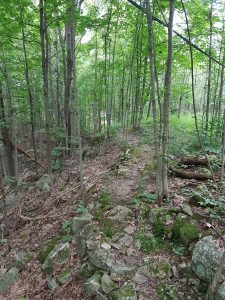 The further you go in, the more confused you become with the dozens of forks, and aware that it's just a matter of time before you:
Smash your bike on some stupid shit which really didn't need to be that sketchy to be difficult
Donate blood, either in a crash or to the thousands of mosquitos who easily keep up due to the tightness/slowness of the trail, or
Look for an easy way to bail and maybe salvage enough of your afternoon to enjoy a beer on your deck instead.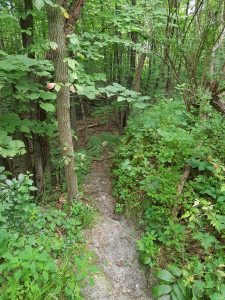 Yeah, my assessment is harsh, and yes I'm getting to be an old fart. While I can ride this terrain, I honestly don't enjoy doing so. Technical is not fun when there's seemingly an element of luck that's preventing you or your bike from harm. I'd rather ride technical that's well built with limited & consistent variables so that (reasonably) repeatable results will occur if you choose to challenge yourself.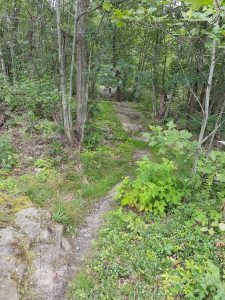 Every now and then the trail pops out onto exposed Canadian Shield offering yet another type of terrain. This stuff would be super fun to leverage if there weren't so many damn forks every 50 meters or so.
The pic below shows just how close the 401 is to this trail network (just to the right side of the pic).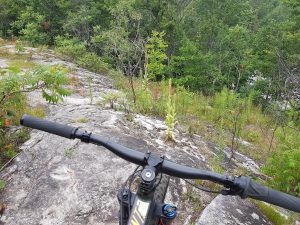 And that's it. My 5km ride proves that I selected option #3 above. From past rides with locals I know there's more sketch out there but after several dead-ends and bail-outs into ATV mud bogs, I lost the patience to waste my time searching when it could (should?) have been easy for signage to show me the way. I'm here to ride, not explore.
This review is NOT about the local riders. This area is frequented by many users, ATVs & 4x4s have had a notorious history of chewing up the trail around here. The damage caused by others is not hard to miss. However, what confuses me is that there are clearly sections that are used exclusively by MTBers but there's seemingly little done to maintain. Several spots could have used some simple wooden bridges, overgrowth clearing, and just some basic armouring. Hell, even spray paint color coded dots on the trees to outline some kind of loop.
… and maybe that's the whole point of this network. It's ridden by locals who only want to cater to locals. Either way, it's certainly unique and definitely has some fun buried in there for the riders with the right mindset. Just be prepared to invest quite a bit of time to learn the area first.